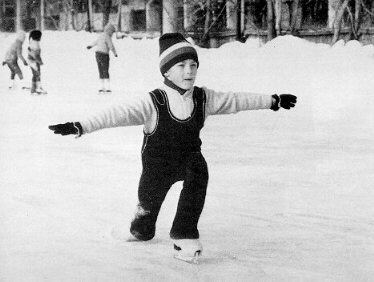 Ilia, at 6 years old, developing his Olympic form
at an outside rink in Moscow
Photo courtesy of the Kulik Family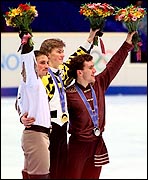 Ilia's "big, crazy dream" becomes reality in Nagano,
Feb. 14, 1998
When 20-year-old Ilia Kulik stood at the top of the Olympic podium in Nagano, Japan in February
1998, he was only the second man in figure skating singles history to achieve a Gold Medal on his first
trip to the Winter Games (the first being the United States' Dick Button in 1948).

lIia's "big, crazy dream" as he has called it, started when he was five-years-old in his hometown,
Moscow. His mother took him to a children's skating class to see if skating might be his sport. After
watching her son fall and fall again at his first try on skates, Mrs. Kulik thought they should try out
another sport right away. She was surprised to hear the teacher ask her to bring little Ilia back.

"But why? He keeps falling."

"Yes," said the teacher, "but he keeps getting up."

Fifteen years later, with days marked by the same determination, an Olympic champion emerged.

Ilia's talent in his formative years enabled him to work with the distinguished Russian coach, Viktor
Kudriavtsev. Later in his eligible career, he also worked with Russian coach and choreographer, Tatiana
Tarasova, who is well known to American skating audiences.

Ilia's first significant international win, at the age of 13, was a gold medal in the 1990 Piruetten
Juniors competition in Norway. Early competitive achievements included gold at 1994 Russian Junior
Nationals (age 16), 1994 Nebelhorn Trophy, 1995 Junior Worlds (age 17), and most importantly, a gold
medal at 1995 European Championships in Dortmund, Germany. On his way to the gold medal in
Nagano, Ilia won a wide variety of skating honors including two Russian national championships (1997,
1998).